MSC Upholds Suspension of Gulf of St. Lawrence Snow Crab Certificate
March 31, 2019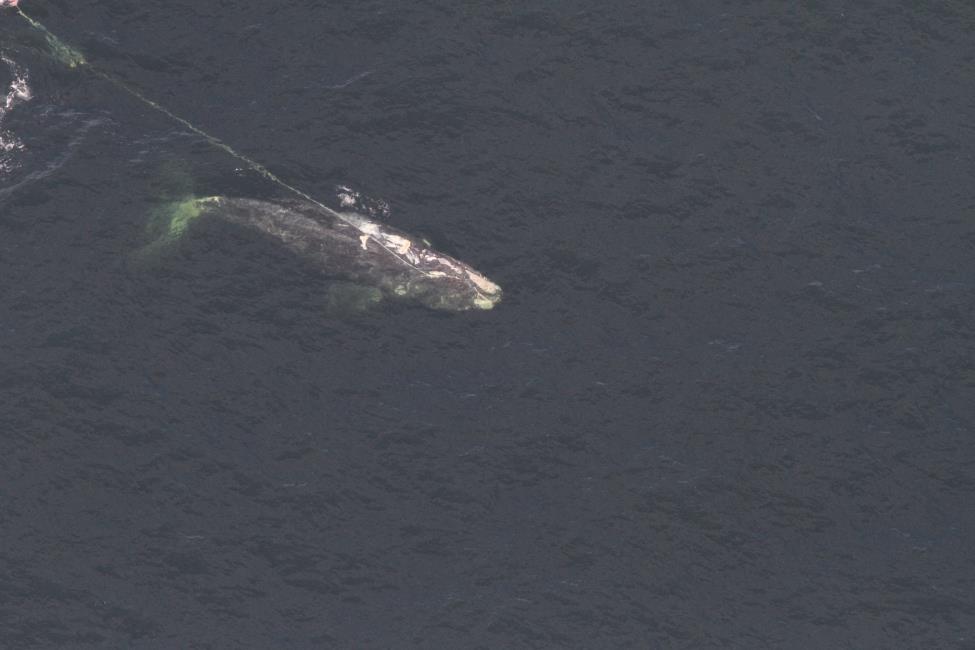 Mayport (#4094), at just seven years old, entangled in snow crab ropes in the Gulf of St. Lawrence. A disentanglement response was not permitted because of the hold put on rescues after Joe Howlett was killed during a disentanglement of another North Atlantic right whale from snow crab ropes just a few weeks earlier. Mayport has not been seen since.
credit: Northeast Fisheries Science Center


The Marine Stewardship Council (MSC) has upheld the suspension of the sustainability certificate for the Gulf of St. Lawrence snow crab trap fishery due to the continued entanglements of endangered North Atlantic right whales in snow crab ropes. There was an expedited audit of the Gulf of St. Lawrence snow crab fishery that was initiated by certifier SAI Global (SAIG) on November 14, 2017 'after review of published reports on the Gulf of St. Lawrence right whale mortalities and the fishery certificate was suspended on March 20, 2018'. The suspension was upheld earlier this month after another audit by SAIG.

At least two North Atlantic right whales were killed by snow crab rope entanglements in 2017 and at least another four were entangled that year - three of which were disentangled with Mayport being the only one that was not. Ruffian (#3530) was freed from snow crab ropes in January of 2017 off the coast of Georgia that he became entangled in sometime in late 2016, a right whale was found dead on Sable Island off Nova Scotia in 2016 entangled in snow crab ropes and another whale, FDR (#4057) was disentangled from snow crab ropes in 2016 that were traced to the same area as the rope from the Sable Island whale. In January of 2018, #3893 - a 10 year old female - was found dead off the coast of Virginia from a Canadian snow crab rope entanglement. FDR and Mayport have not been seen since their entanglements which is very worrisome - especially since Mayport was never freed of her ropes.

The MSC press release states, "The certifier concluded there is still not enough evidence to confirm that the measures implemented to mitigate the fishery's impacts on endangered North Atlantic right whales (NARW) have been sufficiently effective. Despite the management measures implemented in 2018, the certifier determined that known direct effects of the fishery, defined as entanglements with the potential to result in mortality of individual whales, are likely to hinder recovery of the NARW population." This means that any snow crabs caught in crab fishing areas 12, 12E, 12F and 19 'cannot be sold as MSC certified or bear the MSC label'. We're glad that the suspension was upheld but even if the industry improves some of their practices and the suspension is lifted, any and all crab traps attached to ropes present a risk to North Atlantic right whales. Our Entanglement section provides more information on fishing rope entanglements - which are the number one cause of death for these whales - but in order to protect North Atlantic right whales, one of the best things we can do is refrain from purchasing any species caught in traps or gillnets.

To find out more about what is happening to North Atlantic and North Pacific right whales and how we can all take actions in our everyday lives to protect them, please visit our Facts and Action sections on our website. We also post updates and pictures on Facebook, Tumblr and Twitter.