Fourth North Atlantic Right Whale Calf of 2018-2019 Calving Season Sighted Off Georgia
January 28, 2019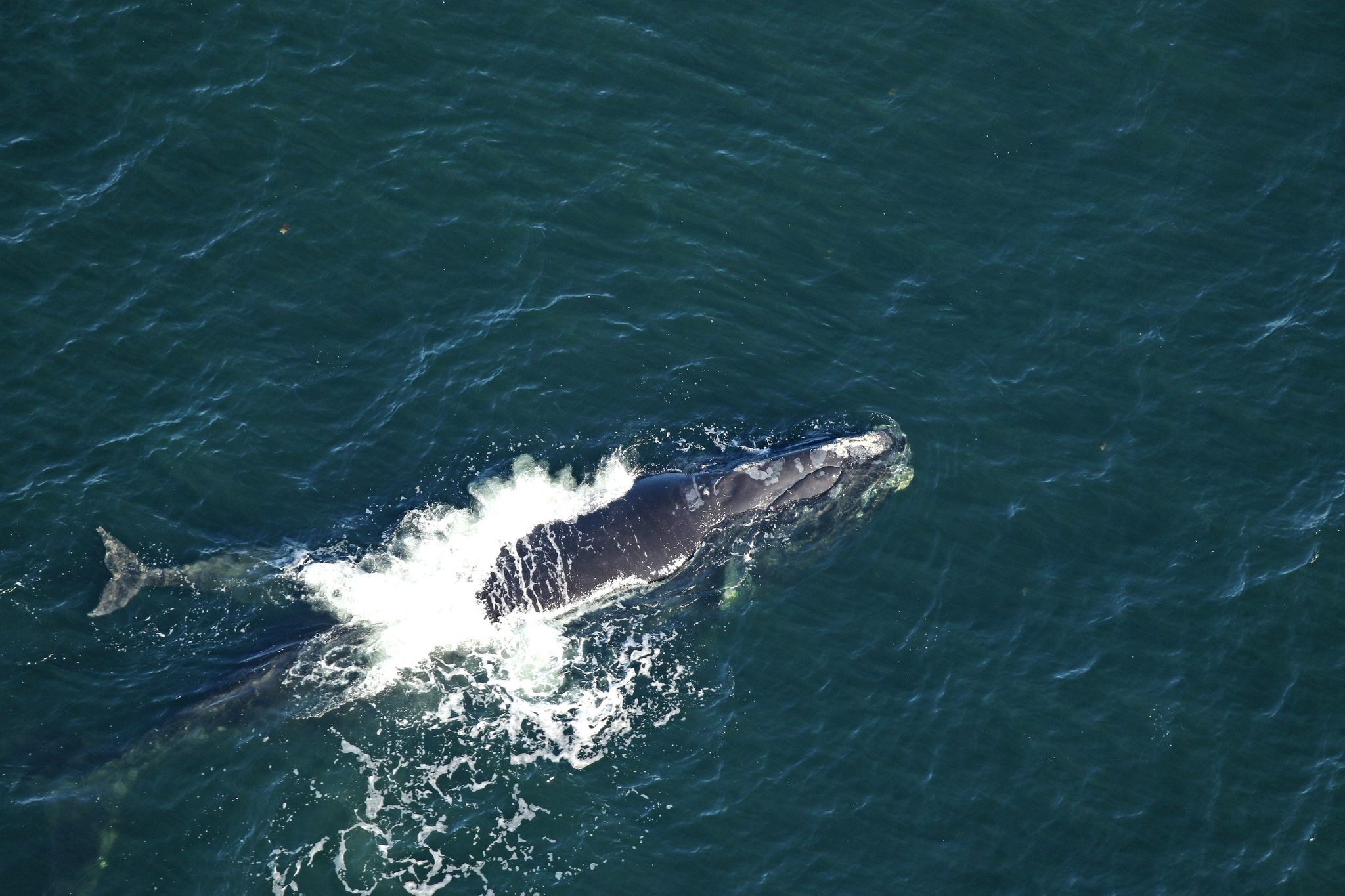 Boomerang (#2503), a 24 year old North Atlantic right whale, was sighted 36 miles off Jekyll Island, Georgia with her new calf on January 25, 2019. This is her fourth known calf.
credit: Florida Fish and Wildlife Conservation Commission, NOAA permit #20556-01


The fourth North Atlantic right whale calf of the 2018-2019 calving season has been sighted off the coast of Georgia! Boomerang (#2503), a 24 year old North Atlantic right whale, was seen with a new calf 36 miles off Jekyll Island, Georgia on January 25, 2019. Boomerang last gave birth during the 2014-2015 winter calving season and this is her fourth known calf. In a post from December of 2018, North Atlantic Right Whales Return to Georgia, we talked about the December 12th sighting of Boomerang and Magnet (#3808) who were traveling south together about 20 miles southeast of Tybee Island, Georgia. We hoped that since they were in Georgia during calving season that they were pregnant and now we know that at least Boomerang was. We hope that Magnet is pregnant or has already given birth. She's 10 years old and has never given birth before but right whales usually start calving at about 10 and was in the only known calving area of these whales as of December 12th.

Four calves is a good start to the season, especially as there were no calves sighted in 2018 and only five were seen in 2017, but we're hoping there are more. Three of the 2017 calves were seen in the calving area off the coasts of Georgia and Florida while two weren't seen until they were all the way back up to Cape Cod Bay so that's even more cause for hope. The population estimate for the end of 2017 was 411 and the three known deaths of 2018 brought it down to 408 so every birth is crucial to the survival of North Atlantic right whales. The journey north to Cape Cod Bay is dangerous and the dangers don't stop there so the protections for these whales must be strengthened and expanded in order to keep them safe.


More Information:

Third North Atlantic Right Whale Calf of 2018-2019 Season Sighted Off Florida - 1/25/2019

Second North Atlantic Right Whale Calf of 2018-2019 Season Sighted Off Florida - 1/21/2019

First North Atlantic Right Whale Calf of 2018-2019 Season Sighted Off Florida - 12/29/2018


To find out more about what is happening to North Atlantic and North Pacific right whales and how we can all take actions in our everyday lives to protect them, please visit our Facts and Action sections on our website. We also post updates and pictures on Facebook, Tumblr and Twitter.